Maps of the labors of Hercules
As the story goes, Hercules had been instructed by the Oracle of Delphi to perform twelve very difficult tasks (better known as labors), in order to redeem himself from all the evil deeds he had done.Click here to learn more about the hero's life.
In the two maps below, you can see the geographic areas and the locations (numbered from 1 to 12), where the twelve impossible feats took place. To get additional information about each labor, you can click on the number to be directed to the relevant location of the page.
Below the two maps, you can see a table with a brief description of each labor.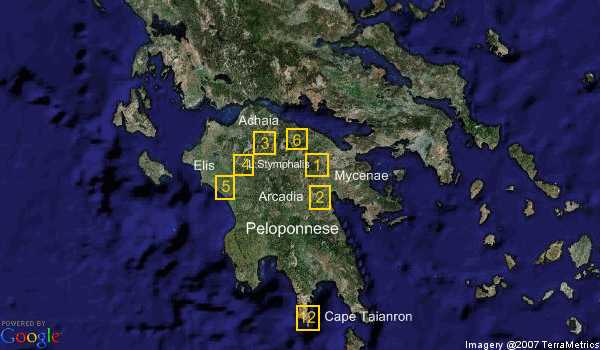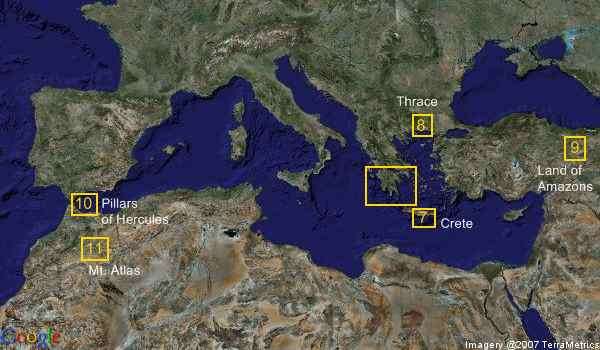 | Number | Labor | Location |
| --- | --- | --- |
| 1 | Hide of Nemean Lion | Nemea (argolid) |
| 2 | Lerna Hydra | Lerna (argolid) |
| 3 | Cerynitian Hind | Keryneia (behind Argolid and Achaia) |
| 4 | Erymanthian Boar | Mt Erymanthos(Arcadia) |
| 5 | Augeian Stables | Elis (West Peloponnese) |
| 6 | Stymphalian Birds | Lake Stymphalis (Arcadia) |
| 7 | Cretan Bull | Crete |
| 8 | Diomedes' Mares | Thrace |
| 9 | Belt of Amazon Hippolyte | North Asia Minor |
| 10 | The Cattle of Geryon | Near straits of Gibraltar |
| 11 | Apples of Hesperides | Somewhere in Libya |
| 12 | Capture of Cerberus | Hades, near Cape Tainaron in Peloponnese |
---
Return from Maps of labors of Hercules to Greek Maps

Return from Maps of Labors of Hercules to igreekmythology.com home