Map of Journey of Theseus to Athens
On his route to Athens, the greek heroTheseus had to confront many bandits and monsters, who used to ravage and spread terror in the area around the city.
In the map below, you can see the locations (marked with the letters A to F), where the great greek hero met his fearsome adversaries, en route to Athens where he would ultimately become the king.
In the table below the map, you can read more details about each location.
Also, you can click anywhere on the map to go directly to the relevant page, where the hero's adventures are described in more detail.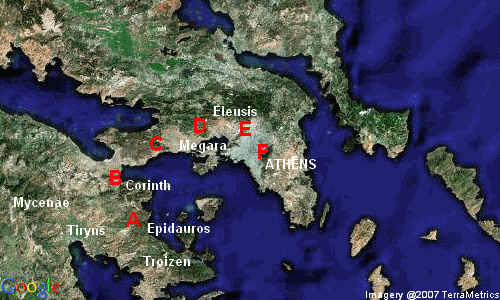 Key:
| Letter Code | Location | Exploit |
| --- | --- | --- |
| A | Epidauros | Kills Periphetes, a son of god Hephaestus, who used a club to kill travelers |
| B | Isthmus of Corinth | Kills Sinis, the Pine Bender |
| C | Krommyon | Kills the monstrous sow called Phaia, alleged by some to be offspring of Echidna and Typhon |
| D | Skeironian rocks | Hurls the bandit Skeiron into the sea, to be devoured by a giant turtle |
| E | Eleusis | Kills Kerkyon in a wrestling bout |
| F | Near Eleusis | Kills Polypemon/Prokroustes, by fitting him to one of his own beds |
---
Return from Journey of Theseus to Greek Maps

Return from Journey of Theseus to igreekmythology.com home